[Unpaid advertising – This post contains names of online shops, brands or companies. All mentioned articles are paid from my own wallet.]
The year 2020 has probably turned out a little differently for all of us than we had imagined and hoped for last New Year's Eve. This is what happened to me when I invested time in planning and building my blog and thought about possible posts I wanted to share with you.
I'm a huge fan and admirer of the planning community, Filofax creatives, Doodle artists, and collectors of stamps and washi tapes, and I also admire the many creative and talented people who use Project Life or scrapbooking to document their stories in such a wonderful way. You all motivate me to try something new and I can't thank you all enough for that, because sometimes reaching for pen and paper helps to switch off the noise of the world for a moment and forget about worries.
Currently I can't present you with any spectacular calendar pages in my Filofax because I lack concentration thanks to chemo-brain, but I thought that my "Calendar 2020" might help other patients to get a bit more organised in their everyday life with a diagnosis of "snoring apple" (cancer).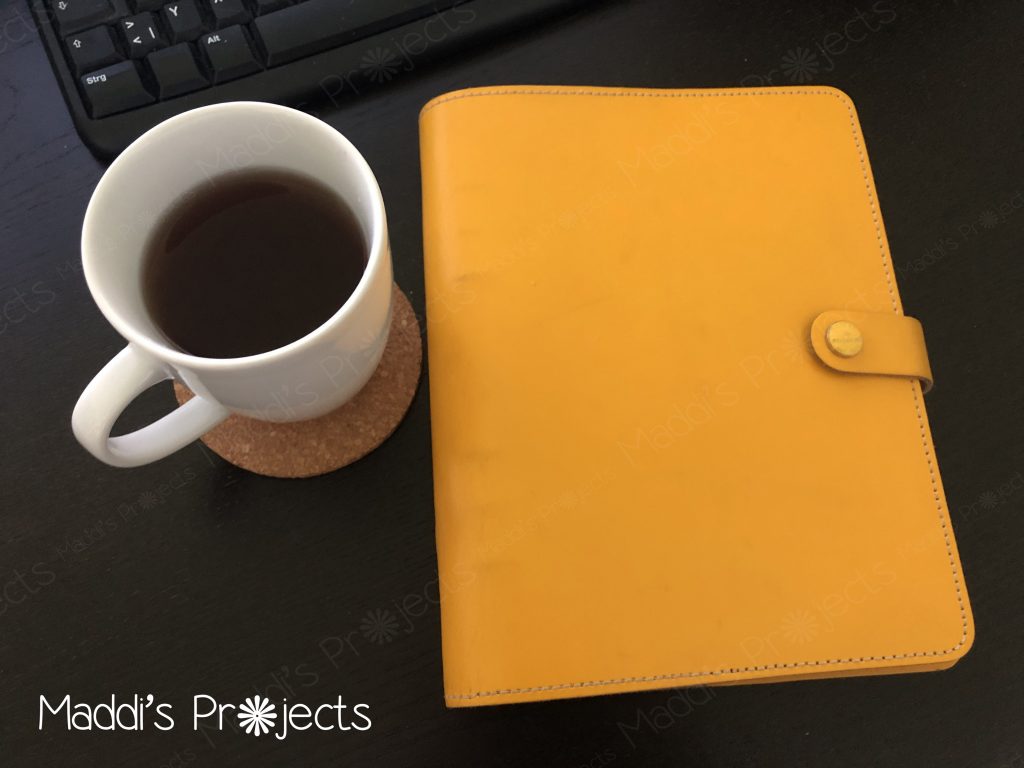 Since 2014 I have been using a yellow Filofax Original in size A5 and despite the high price, I can recommend the organizer to anyone who has been thinking about buying one for a while. The quality of the organizer is high, the spiral binding and the closing flap button still work as they did on the first day and the colour yellow still gives me joy after a few years.
Due to my diagnosis, my requirements for the calendar have changed and for reasons of space alone, I decided to staple the calendar inserts from the Filofax into an 8 cm wide A5 folder and convert the folder into a calendar. Without further ado I adjusted the indexes with the standard punch to the spiral binding of the folder and restructured the division "Onco-Friendly". The first step is a transparent cover which contains the aftercare calendar. This aftercare calendar is given out by the oncology and includes all treatments and medications that have been administered. It also serves as a reference book for other doctors. The transparent cover is also very practical when you are given these small, loose pieces of paper with the next appointment. So before loose notes disappear in trouser pockets or handbags, they find their place in the clear plastic wallet.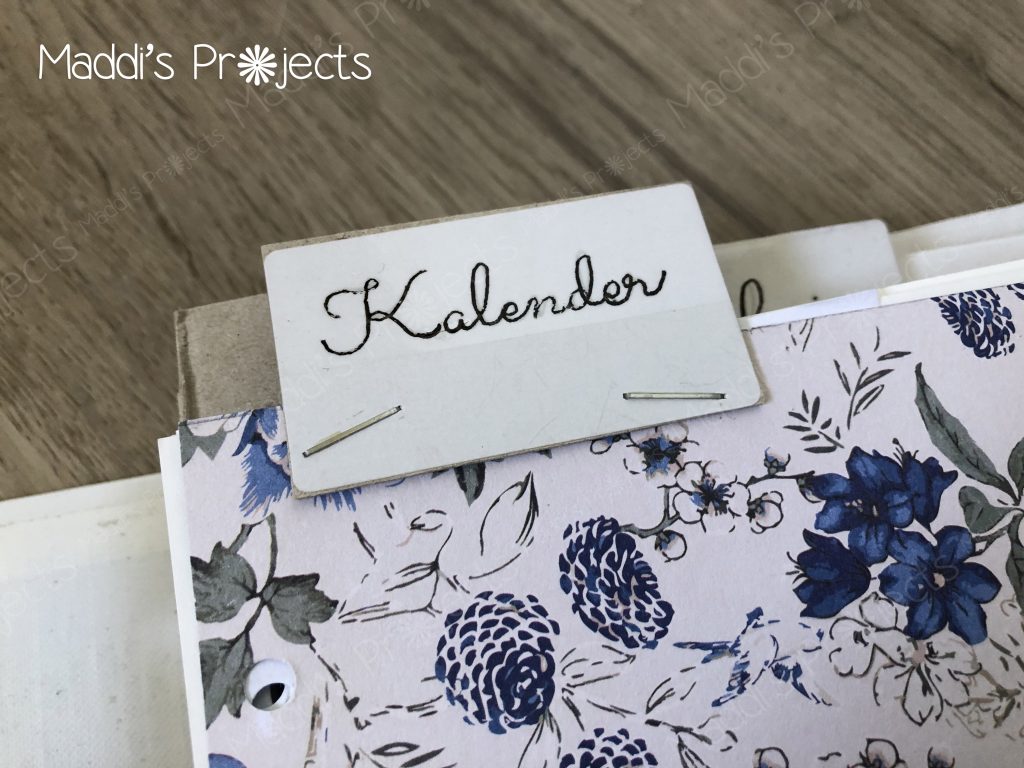 I have decorated the individual registers unspectacularly with self-made "tabs". They consist of a piece of old, thin cardboard and with a label printer I printed the lettering. To increase the stability, the tabs are covered with transparent adhesive tape, which caused the label to fade. So don't be surprised if I rewrote the lettering with a black pen again.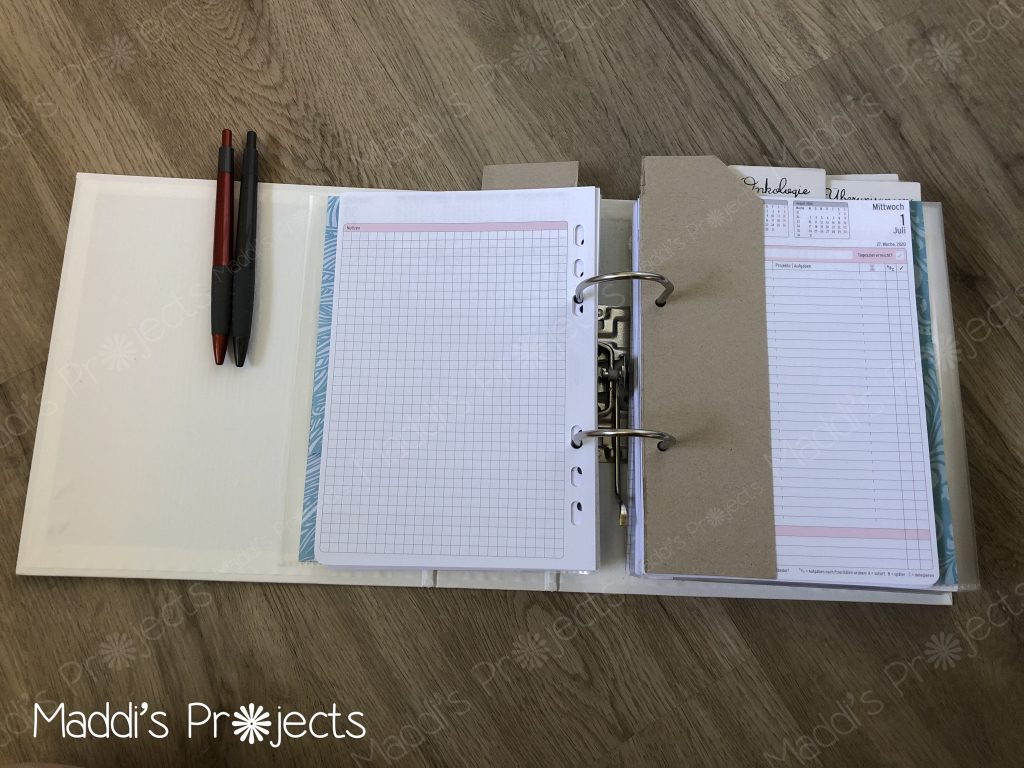 This year I switched to calendar inlays from Chronoplan (Avery Zweckform), after having used the "one week on two sides" version for some years. If you have one double page per day, there is still enough space for thoughts besides planning appointments and tasks. I write down daily events that interest me and which I want to integrate into my Project Life photo books. But the left side is also suitable for gratitude lists or, in case of illness, for notes on daily health.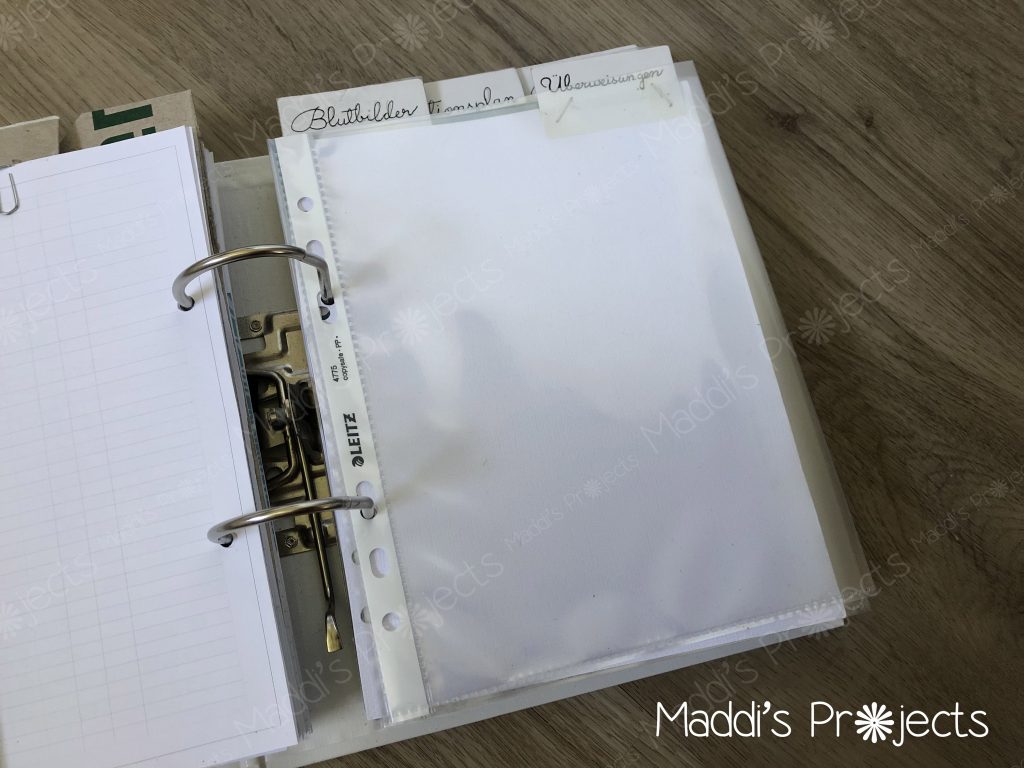 The calendar is followed by registers that I need to organize my "snoring apple". In a general oncology section you will find the emergency number of the doctor's office and my medication plans. In the blood analysis section I file (self-explanatory) the results of the blood tests. This is followed by an action plan and reports.
I keep a so-called action plan – a table in which I write down when I had a doctor's appointment and what happened there (e.g. blood test, chemo, ultrasound, MRI, etc.). This way I always have an overview of when which examination was done and I can tell all doctors when what was done.
And in the last section, at the reports, I file all written reports I have received. Here, too, transparent pockets are very practical for storing CDs of, for example, MRI images.
Although this folder takes up a lot of space in a handbag or a rucksack, it has become a practical companion for me in a turbulent phase of my life, because the folder gives me the possibility to collect everything important in a file and to have it ready at hand for my medical appointments. It may sound complicated, but you quickly get used to the structure and I hope with all my heart that this folder can be an example and good companion for people who have to deal with extensive paperwork due to their illness.
Stay strong! Because giving up is not an option!