When you see sunflowers, you are in a good mood. At least that's how I feel. I like it when you walk past front gardens and see them standing tall as a man in the flowerbeds with all kinds of perennials growing at their feet.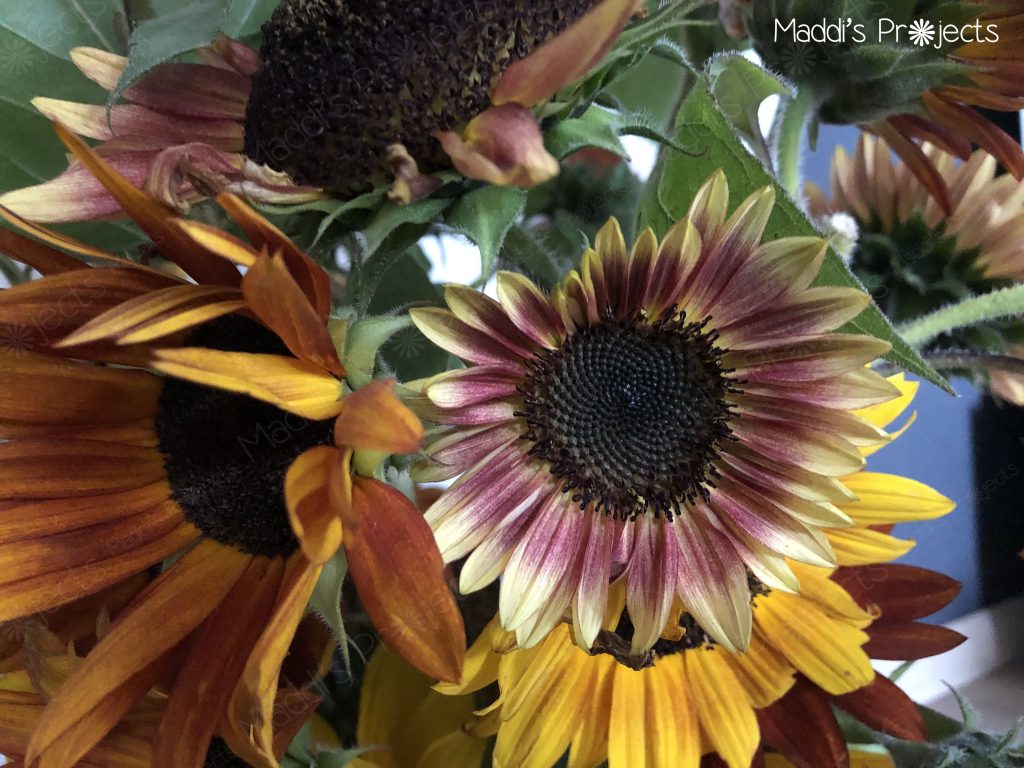 Not all sunflowers are the same. Seeds are offered for flowers in different shades of yellow, orange and red and there is also a good selection of plants ranging from small plants to huge varieties. This season I have mainly used multi-stemmed varieties. Because they branch so beautifully and delight the observer for a longer time with beautiful flowers, because the buds open one after the other.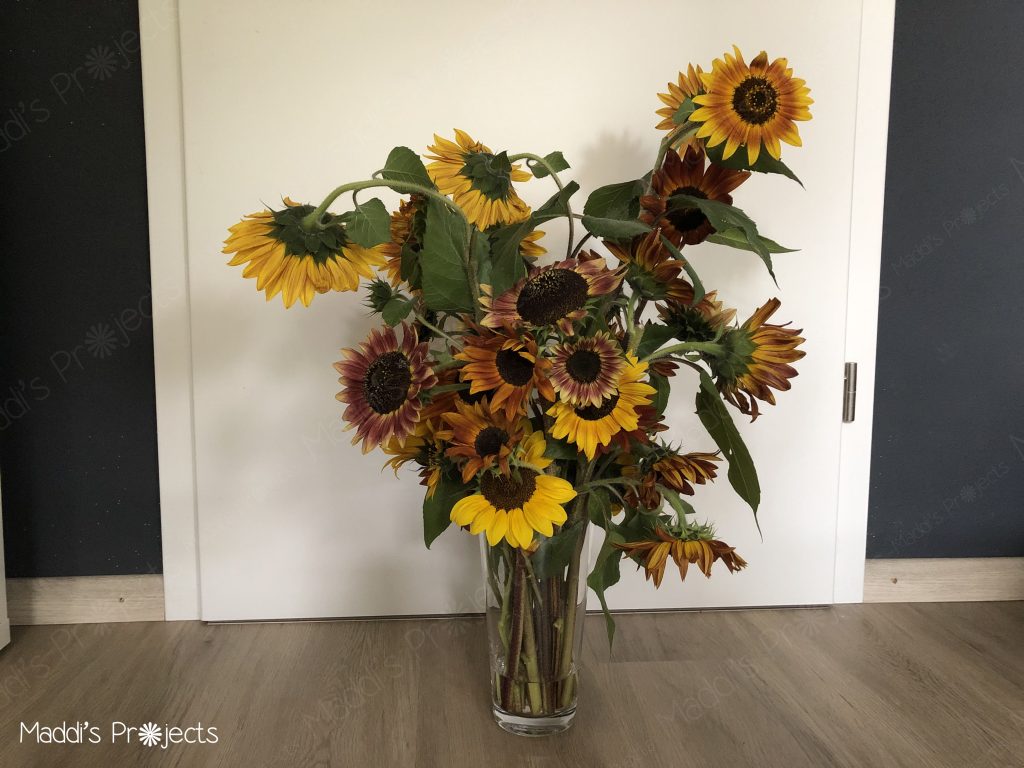 Since a few days the weather situation has changed to autumn. After we were happy about a lot of sunshine, wind gusts and rain showers came over us. A few of my sunflowers have fallen victim to the new weather conditions.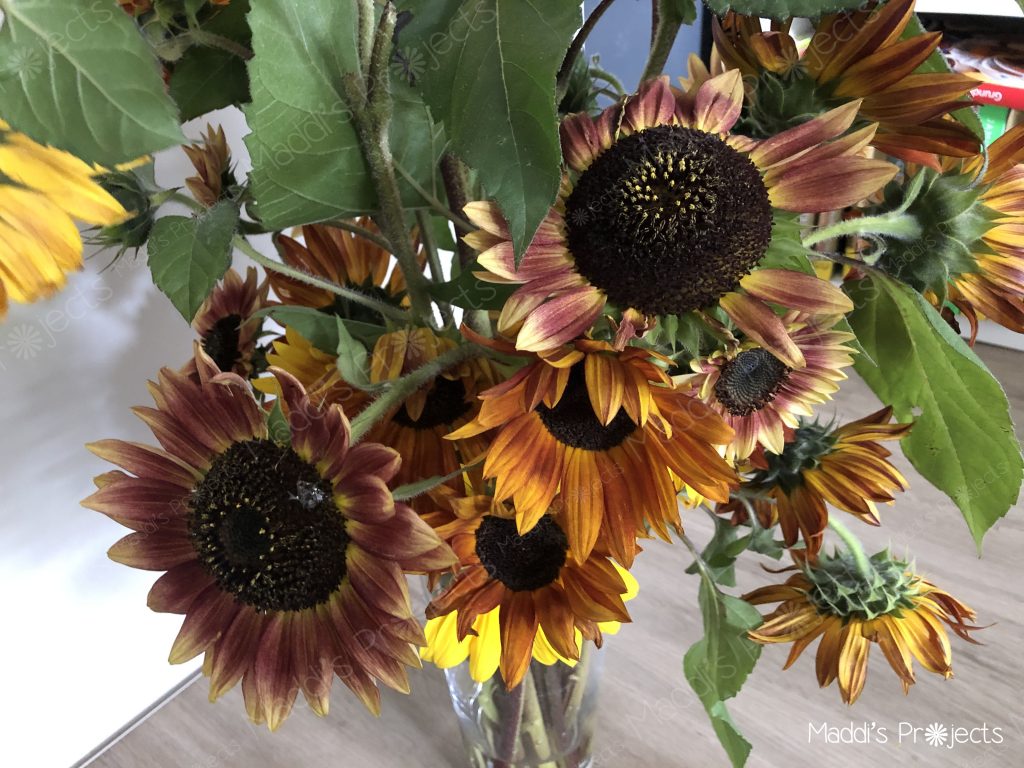 And I have made every effort to avert the disaster.
During the previous gusts in August, some of the sunflowers were at a considerable slant. I decided to support them with coconut ropes and tomato sticks.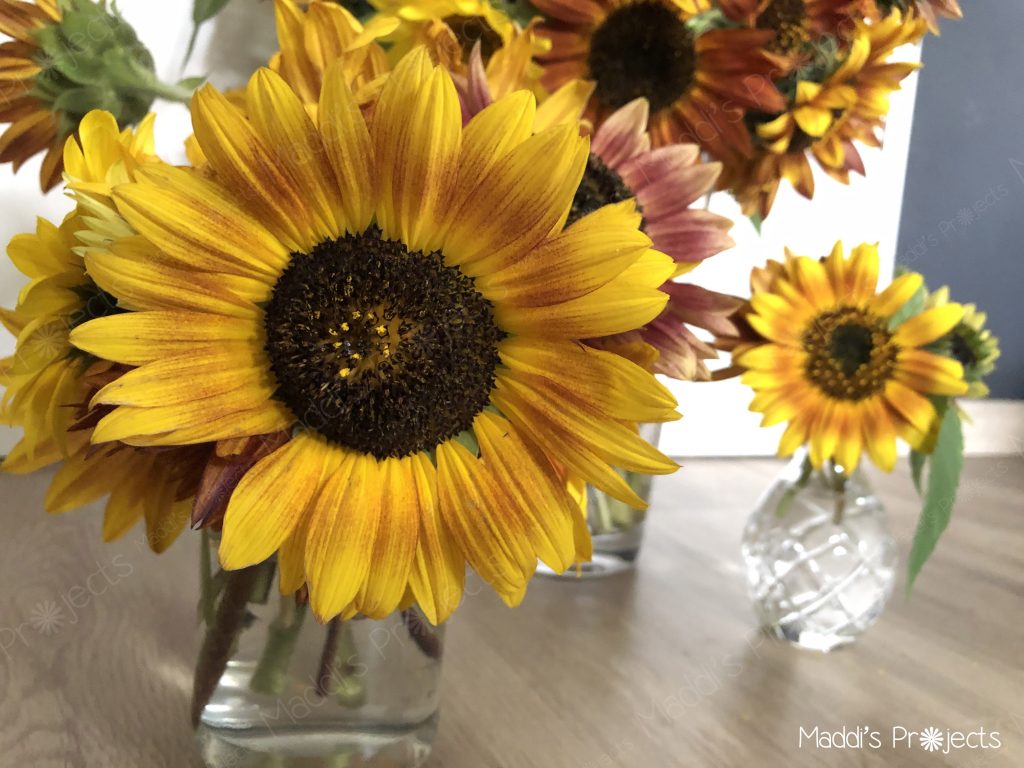 It was certainly highly entertaining when I tried to help a "King Kong" sunflower of over 3 metres in height back into a vertical position or to become mistress of the situation again in the form of a small woman with glasses on. In such a situation you quickly notice the absence of at least 2 more pairs of arms and hands. Not to mention the lack of height.
And then the many leaves of the "King Kong". Leaves, bigger than big men's hands. Similar to bear paws. And the leaves were everywhere. During my "I-buckle-my-sunflower-wind-suitable-at-a-fence-action", "King Kong" leaves are always in the way… even my handy size didn't help me. There is no place to slip in between. leaves. Leaves everywhere. But I've come to the conclusion that next summer I'm going to fan myself with these paw-sized leafy things to cool myself down. The leaves do have their practical sides. Not to mention the looks.
But you don't think about that immediately in the heat of the moment… you gather these insights on the way or during the practical implementation of the plan, so to speak, while you pick up the flower from the ground and try to chain it to fences to keep it wind-proof.
Anyway… you just have to love this monster among the sunflowers. At least, that's how I feel about it.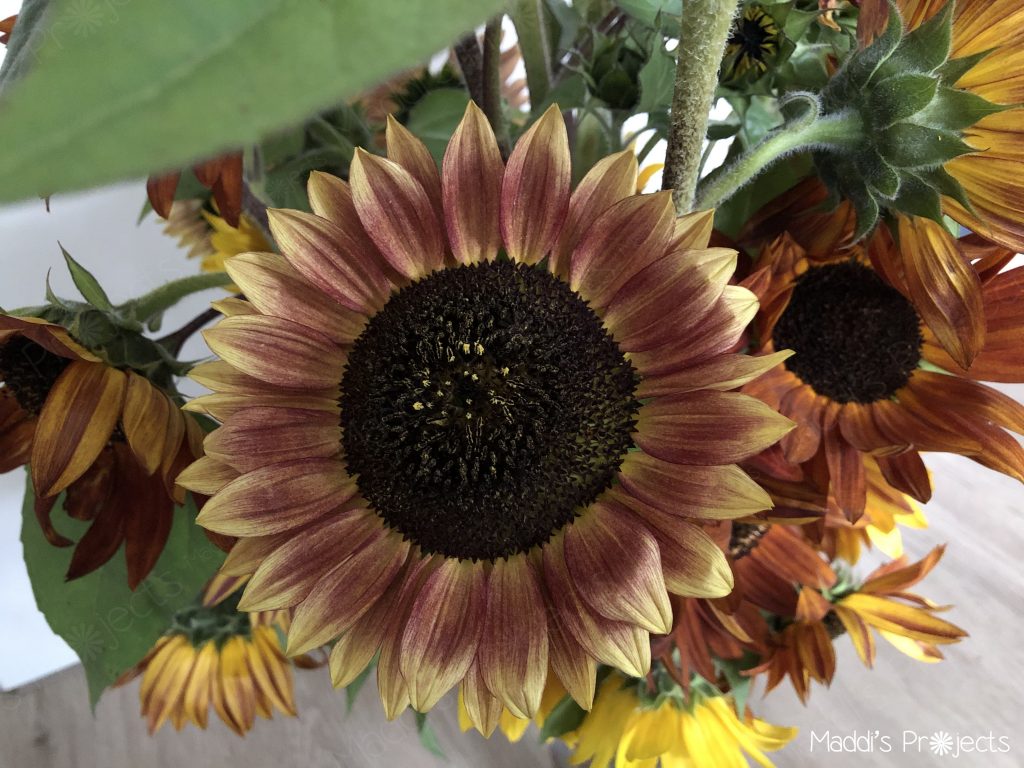 When the wind "coughed and blew" again the other day, the "King Kong", as well as 2 other large sunflowers had no chance despite my tomato-stick-super-special-construction. The gusts really felled the little flowers.
Then I decided to use scissors. I cut off the intact side flowers and put them in a vase to enjoy them once more before we change to the dark half of the year and the spectacle of colours comes to an end. I have placed the well-ripened flower heads in the garden – hopefully the finches who visit us will enjoy it. So each of us gets what he needs.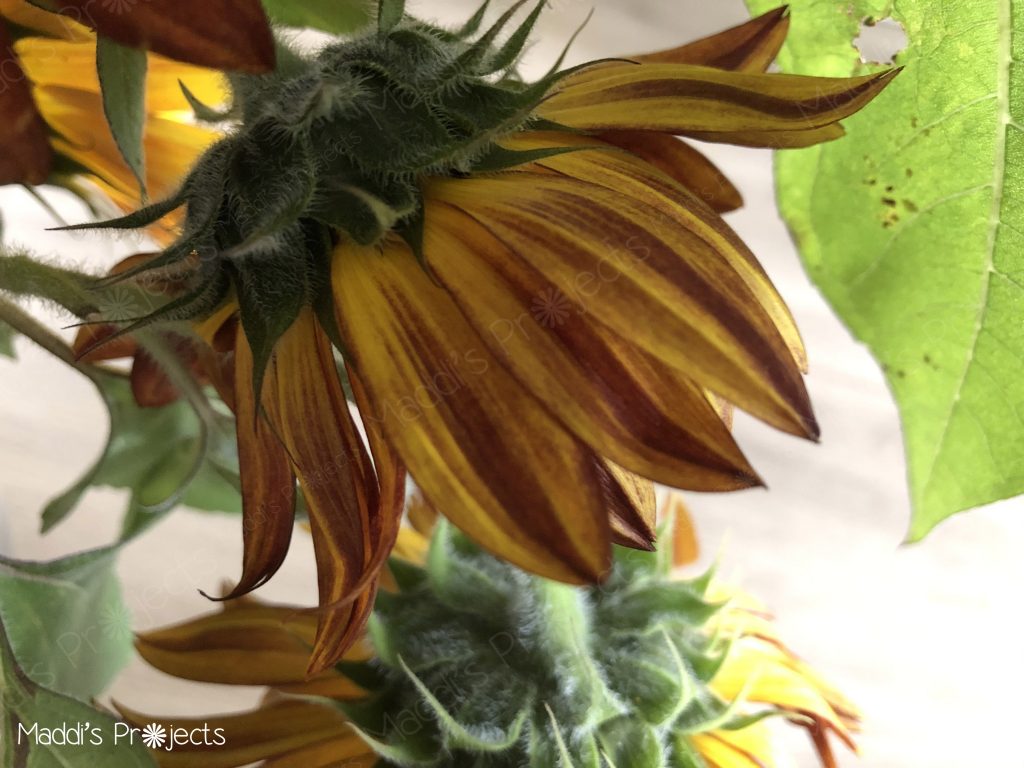 For the next year I plan to sow sunflowers again and let them enchant me again. There will be different varieties, because I think they are all great and I can never get enough of sunflowers.
Should gusts of wind cough up again next season, I will (according to my experience so far) be seen with ropes and tomato sticks again by the end of the summer at the latest. So if you see a small, bespectacled woman wrestling with a fallen sunflower monster under full physical exertion, don't worry, because then I'm in my element and generally happy 😉